11/08/2016
Bienvenue chez...FranceWebAsso
C'est Moi, C'est Vous, C'est Nous !
TOUS LES CHEMINS MENENT A...FranceWeb
Les communautés sont le point de départ pour découvrir FranceWeb et ses valeurs. Tout ce que vous cherchez est ici.
Communication

,

Exposants

,

Partenaires
Enthousiasme, compétence, générosité, créativité, altruisme font la richesse de notre action
Encourager le partage de savoirs.
By Dominique Baroux
Dominique Baroux is based in Paris, where he is responsible for coordinating AT&T's regulatory affairs for AT&T's EMEA (Europe, Middle East and Africa) Region. He is also in charge of Institutional Affairs.
Earlier this month, Nicole Anderson, AT&T's Assistant Vice President of Social Innovation, visited with students at the French undergraduate school, Lycee Colbert. Nicole joined Jerome Savy, our HR Director for Europe, Middle East, and Africa, and myself to chat with the students about their future.
The school is located in the Paris suburbs. Each year, AT&T hosts educational session as part of AT&T Aspire, our signature philanthropic initiative, which drives innovation in education – through technology, social innovation and relationships – to ensure all students have the skills they need to succeed in school and beyond.
Students at Colbert create an imaginary company. We work with Entreprendre Pour Apprendre(EPA), a French governmental agency that supports student programs to develop fictional enterprises. Students incorporate it, run it with all the required activities (staffing, product creation, procurement, sales, and accounting), and to close it. It provides students with new skills and a unique perspective of how to run a business.
During our visit, the students presented their projects to EPA and us. They also explained how AT&T Aspire and mentors benefit and enrich their learning experience. Nicole noted that despite being from different continents, we're also seeing similar benefits with students in the U.S. When mentors connect to young people, both are changed for the better.
10:19 Écrit par franceweb dans 21CenturyWebArchive, Advertising, Agregator, AlertInfo, Archive21siècle, ArchiveWeb21, Art et Culture, Articles, Autoentrepreneur, Blog, Communiqués de presse, Community, Dipl.Ing.Stefan V.Raducanu, Diverse, Education, Entreprises, Europe, Exposants, Famille d'Entreprises, France, FranceWeb, e-Globalnetwork, Innovation, International, Jeunesse, LMathieuwebcollection, Madeleine et Stefan Raducanu de FranceWeb, Monde, OneGlobalLocal, Organisation, Partenaires, PoissyWeb Social Network, PoissyWebCitoyen, Recherche, Réseau, SELECTION, Sharing, SmartCity, Social Media Intelligence, Société, SRU-Electronics, StefanWebCollection, Tech, USA, Women, Work, World | Lien permanent | Commentaires (0) |
Imprimer |
|
Facebook | | | | |
07/08/2016
Follow SRU-Electronics as You show the best of Web, Suivez les traces de SRU-Electronics pour découvrir le meilleur du Web
Bienvenue chez...FranceWebAsso
Digital Communities
C'est Moi, C'est Vous, C'est Nous !
Know why, Know who, Know where, Know what. The know how to succeed.
People, Performance & Pay. Contact facilitator at the heart of Business.
your first and best source for all of the information you're looking for. From general topics to more of what you would expect to find here, ...
AMPLIFY YOUR CONTENT
Brand an online multimedia newsroom, hosted by FwContentWorks, including your corporate logo, event details, press releases, photos and videos.
Take advantage of content placement on major media portals.
FWContentWorks creates multiformat custom content and distributes that content through native advertising on our own digital properties and across our nationwide network of local member news websites. Your branded content will be adapted to the look and function of the surrounding content and served directly in each site or application's editorial feed.
USE FranceWeb,e-GlobalNetWork® TO YOUR ADVANTAGE
Connect, share and meet those who are right next door. Let your inerests be known and discover the profiles of your neighbors.
SRU-Electronics is the legitimate strategic and tactical research and analysis designed to identify threats and opportunities.



Gravitation Towards Online, Searchable Information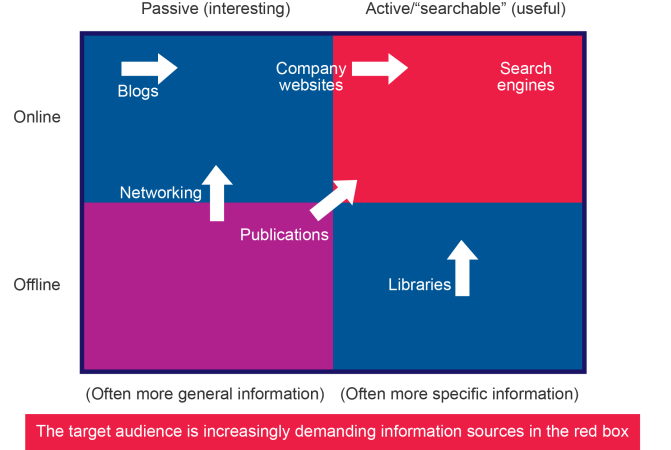 Knowledge and Experience
At SRU, we have built our business around knowledge and experience and our 'b2b focus' has given us insights and intelligence from which your business can greatly benefit.
Please take your time to look around our website where you will find evidence of that knowledge and experience through our many publications and cases histories.
Quite simply, we have carried out more business to business market research studies than any other company in the world – ever. We hope you agree that our understanding in business to business markets goes beyond knowledge, truly setting us apart.
Competitive Intelligence
Make competitive intelligence part of your business practice and be on the cutting edge
Competitive intelligence is the art of defining, gathering, analyzing, and distributing intelligence about products, customers, competitors, individuals, concepts, information, ideas, or data needed to support executives and managers in making strategic decisions for an organization. Competitive Intelligence For You introduces you to this fascinating subject and gives you the tools you need to incorporate it into your business decision–making process
Today, competitive information is more readily available than ever before. You can find endless information online in an instant. Yet the information that is most valuable to you and your business cannot be found on a Google search. Acquiring this information requires a lot more intelligence.
For Competitive Intelligence Solutions that give your business the competitive edge
The right strategy, the right solutions
Our bespoke Competitive Business Intelligence Research can help give you the edge in a global marketplace, empowering your business to overcome industry challenges quickly and effectively, and enabling you to realise your potential and achieve your vision.
Information is everywhere. Intelligence is harder to come by
From strategic overviews of your business's competitive environment through to specific competitor profiles, B2B International's tailored Competitive Intelligence Research is designed to meet your unique needs and include:
Press analysis - using news aggregators, databases and journal subscriptions
Competitor pricing research
Competitor interviews
Customer interviews
Interviews with suppliers, distributors, associations, and other high-level industry experts
Rehearsing The Future – Making Better Strategic Decisions
Before developing a strategy, organisations need to analyse and understand their environment, both as it is now and as it will be. The major focus of strategic decision-making is how best to ensure a fit between the organisation and its environment. However that fit is not static and the task is to look at likely changes in the environment.
BI Intelligence, a research service from SRU-Electronics, brings you and your team business intelligence for the digital age. Our research is fast and nimble, reflecting the speed of change in today's business. We give you actionable insights that enable smarter and better informed decision making.
To grow as a unified team, the SRU team shares common core values upholding the company's reputation for excellence in quality and service.
The Invisible Key to Success
Key Management Ideas

New Skills for the new world....
information search,conceptual flexibility,manage on international scale,respond to multiple sources of authority,combine a variety of leadership and team roles,act strategically,utilize technology,comminicate externally,manage cultural diversity
establish, reinforce, and develop values,distill complex flows of information,managing change, from change to transformation
Talk of ideas such as empowerment, globalization, process re-engineering and innovation can mean little to many managers. You do not have the time or the budget to keep up with every management development and every new initiative.

Key ideas covered include:
the new world of management and organization
creating and implementing strategy
new ways of managing people and leadership
the quality revolution
re-inventing marketing
learning and development
"Community of Practice (CoP)"
Managers and Entrepreneurs
business,management,ideas,leadership,globalization,key, empowerment, content, initiative ,innovation, guidance,concept,quality,revolution,world,people,organization,perfprmances,knowledge,techniques,advice,methods,information,efficiently,databases,libraries,on-line,services,consulting ...
FranceWebSharing
Research Starts Here
FranceWeb,e-GlobalNetWork® Best French Blogs
Our passion is delighting customers and users with our technology.
Our mission is to maximize mobility, connectivity and business productivity.

GlobalPartnersNetwork networks internationally with start-ups, researchers, designers, students and social innovators, as well as with major corporations and public institutions, in order to accelerate innovative projects and facilitate open innovation

SRU-Electronics

"SRU-Electronics is an impressive research portal that also provides an interactive component that draws from both social media and knowledge management processes."
Learn, Meet, Discover, Exchange, Collaborate, Connect, Anywhere, Anytime, Any device, the people..by the people, everything
Our events provide you with laser focused content, unique experiences, access to people & ideas that create innovation, relevant connections, & generate business.
Our vision has always been making the eco-system safe, compliant and sustainable for consumers, publishers and advertisers. We helped the online advertising industry take a big step towards that direction by identifying, measuring, and solving many of its unseen hurdles inhibiting that. We brought traffic clarity to an amazing roster of clients, with our findings becoming an industry standard.
WE DEVELPOPED A COMPLET RANGE OF RELIABLE SOLUTIONS AND SERVICES
BECAUSE YOU NEED QUALITY AND DURABILITY
At the core of performance

Participative Transformation
sharing information, knowledge, risks and profits
Interactive Business Communities
is the content marketing service of FranceWebeGlobalNetWork, the essential global news network. The ContentWorks team helps companies increase brand awareness, enhance consumer engagement and drive sales and audience acquisition. Leverage the expertise and capabilities of FWContentWorks to create multiformat custom content, deliver that content to your audience and amplify your message through our direct-to-consumer advertising and social channels.
Today's brands compete with new technologies, empowered consumers, shifting public attitudes, brand new contenders and much more. Creating leading strategies and powerful ideas that allow our clients' brands to become unique, irreplaceable, in control and ahead is our purpose. In our network, we all share a common ambition: help our clients and their brands to be and remain the leaders they want to be, to Lead The Change
USE FranceWeb,e-GlobalNetWork® TO YOUR ADVANTAGE
Before the Internet became popular, associations were the primary resource for businesspeople to gain industry insight. Now, as the Web gives your members access to unlimited sources, has your position as the "first source to turn to" been eroded? How do you provide continuing value to your members in the fast-paced Information Age and regain your association's position of authority and leadership?
FranceWeb,e-GlobalNetWork® is the largest sociotechnical system humankind has ever seen. It has changed the way we interact, learn and innovate. Almost daily it appears to change, improve and increase its hold on us.In fact , it has been created for anyone interested in virtual worlds and social networks whether commercialy, because you want to explore the possibilities such environments present, or for academic curiosity. It is the result of a major collaborative effort by members of the same business faculty, to identify and define solutions for the most frequently occuring issues and problems for small, medium and large businesses as well as for non-profit organisations.
ATTRACT NEW MEMBERS
With prospective members having more choices of associations to join (and less corporate budget to do so) and businesses carefully examining other solutions for their employees' professional growth, what compels someone to become a member of your association?
The most successful associations and professional societies inevitably are the ones that make a difference in their members' careers and businesses. Not the ones with the prettiest Web sites or the glossiest publications or the biggest annual conferences. The ones that make a difference.
In the 21st century, when the business climate turns on a dime, businesspeople need to be able to anticipate and move just as quickly. Information -- specifically, industry intelligence -- is key.
By making targeted, handcrafted, relevant newsfeeds a vital part of your member-support system, prospective members have a unique, vital and timely reason to affiliate with your association. You can make a difference for them, and that's exactly the reason to join a professional or industry association.
Help your members sift through all the news available and identify the valuable nuggets for them -- by providing an electronic industry news service, delivered by E-mail and posted on your association Web site.
And help your association regain its position as THE source to turn to.
Information Specifically, timely, industry-specific news about your association's business, from thousands of print and online sources.
Readers will be able to quickly locate, understand and use a specific tool or technique to solve a problem, rather than having to uncover a decision making tool buried within a textbook.
RETAIN MEMBERS
One of your goals as a member-based association is to be useful and relevant to your membership. Typically members are most interested in things that will advance their positions within your industry.
Custom, handcrafted news briefings directly fill that need. Help your members:
Remain abreast of current industry events,
Anticipate developing trends, and
Take advantage of the quickening pace of business.
In the 21st century, information is the key to success, and nothing is less useful than outdated news.
SRU-Electronics's custom news briefings can be hand-tailored to whatever your needs might be multiple feeds throughout the day, morning or afternoon feeds, weekly, whatever your needs and budget require.
Turn Strategy into Action, to deliver to add value for best results

SRU-Electronics reframes organisation culture to bridge the divide and improve results
Business educators, researchers and senior executives responsible for strategy, particularly in high-tech industries, will find insight and ideas to tackle market and business discontinuities on the 21st century.

This web site is a dynamic and comprehensive Knowledge Management information resource for organizations striving to achieve competitive advantage and world-class recognition. The site was built and continues to evolve in the true spirit of Knowledge Management: to share with others and help them succeed.
Collaboration is defined as a way by which companies in a supply chain are actively working together toward common objectives, and is characterized by sharing information, knowledge, risks and profits
This web site is brought to you by:

a Knowledge Management consulting services provider
Hello and welcome again to SRU-Links. SRU-Links is a business idea to support the SRUprofessional by offering affordable web solutions. We have over two decades experience in the Business as well as the same amount in the computer industry. We believe in providing valuable services and support to the Electronics industry. Please review the links below for more information.
Your feedback is encouraged and welcome!
Mission
Transforming data -> information -> knowledge -> profits.

"To utilize knowledge management synergy
in delivering business solutions that achieve
competitive advantage and world-class recognition."
Services

Create an awareness of knowledge management throughout the organization and facilitate related training.

Develop knowledge management strategic and tactical plans.

Coordinate knowledge management initiatives and direct their implementation, including forming the necessary teams.

Propose recommendations and solutions after analyzing the challenges of the people, the business, and the organization.

Identify new opportunities and strategies based on the current and desired environment and marketplace.

"The modern worker is no longer tethered to their desk, nor dependent on company-issued devices and applications to be productive. People are demanding simple, secure solutions that free them to work from virtually anywhere on virtually any device using the applications that best meet their needs," said Stefan Raducanu, SRU-Electronics CEO. "And at the same time, IT succeeds by keeping up with and supporting this shift toward employee-introduced technology. SRU-Electronics offers solutions for both sides of this equation."

Digital Services that Deliver

Content is at our core, but many of our clients use Content Solutions in combination with our other products and services.

Custom Content

Need website content? Or content for your email or other marketing efforts? Don't have time to write and edit content? Our team of expert writers can create a solution tailored to your business needs.

Content Marketing

Every business has a story to tell. We can help you tell your story by crafting the right message and distributing it on our local website. Our unrivaled local market reach is the best way for you to talk to potential customers.

Email Marketing

We love email and we think it can be a powerful marketing tool for businesses of all sizes. Our team starts with customer personas and we build out a content strategy tailored to engage and drive results.

Social Media

We can help you harness the power of social networks such as Facebook, Twitter, Instagram and other popular channels. Many of our clients hire us to run their social marketing program, trusting in our best-practices ethics.
Know why, Know who, Know where, Know what. The know how to succeed.
Google and Fiat Chrysler team up for 'first of its kind' self-driving car project
The tech giant and car manufacturer announced merger of engineering teams in Michigan to integrate autonomous vehicle technology into hybrid minivan
In a move that marks a major step in the inexorable march towards making self-driving cars a reality, Google have announced what it is calling a "first of its kind" partnership with car manufacturer Fiat Chrysler.
The partnership, which was announced Tuesday, will see Google's self-driving technology integrated into a Chrysler Pacifica hybrid minivan, a move which will more than double the testing fleet of self-driving vehicles that Google operates.
Tech companies such as Google, Uber and Apple, as well as chip maker Nvidia, have all been working toward autonomous vehicle technology in competition with both each other and car manufacturers. BMW, Audi, Ford, General Motors and Mercedes-Benz are among more than a dozen automotive outfits working on the technology.
But Google's alliance with Fiat Chrysler marks the first time two companies have come together from opposite sides of what is often a cultural, as well as technological, gulf – though Elon Musk's Tesla can be seen as a sort of hybrid.
Engineering teams from Google and Fiat Chrysler will work together at a facility in southern Michigan, according to a press release. Engineering responsibility will be shared between the two companies in the construction of 100 specially designed Pacifica minivans which will be fitted with Google's automation equipment.
"FCA has a nimble and experienced engineering team and the Chrysler Pacifica Hybrid minivan is well-suited for Google's self-driving technology," John Krafcik, the CEO of Google's self-driving car project, said in the press release. "The opportunity to work closely with FCA engineers will accelerate our efforts to develop a fully self-driving car that will make our roads safer and bring everyday destinations within reach for those who cannot drive."
Sergio Marchionne, CEO of Fiat Chrysler, said in the release: "The experience both companies gain will be fundamental to delivering automotive technology solutions that ultimately have far-reaching consumer benefits."
09:13 Écrit par franceweb dans 21CenturyWebArchive, Advertising, Agence, Agregator, Applications, Archive21siècle, ArchiveWeb21, Articles, Auto, Automobile, Blog, Collections, Dipl.Ing.Stefan V.Raducanu, Diverse, Entreprises, Evénements, Exposants, FranceWeb, e-Globalnetwork, Google, Industrie, Innovation, International, Le consommateur, LMathieuwebcollection, Madeleine et Stefan Raducanu de FranceWeb, Monde, MyNewsCenterNavigator, Organisation, Other News, Poissy Ville Connectée, PoissyWeb Social Network, Pub, Recherche, Réseau, SELECTION, Sharing, SRU-Electronics, StefanWebCollection, USA, Web, Work, World | Lien permanent | Commentaires (0) |
Imprimer |
|
Facebook | | | | |
29/07/2016
Friday July 29, 2016

Saul Loeb/Getty Images

America Has Finally Put A Woman At The Top Of The Ticket

Her comments were a direct rebuke of the speech Sen. Edward Brooke (R-Mass.) had delivered right before she took the stage, as he had argued against the effectiveness and need to protest. Clinton made The New York Times, The Washington Post and Life magazine. She began to get noticed, speaking around the country.
But she really began to draw attention as a political spouse ― albeit an untraditional one. Although Clinton now faces skepticism from the progressive wing of her party, she was often seen as a liberal feather-ruffler in the establishment. People didn't like that she wanted to keep her maiden name while her husband was governor of Arkansas; it was later inconceivable to people that she would lead a health care task force as first lady.
Along the way ― from her days in Arkansas to her time as first lady, from her election to the U.S. Senate to her years as secretary of state ― Clinton has, in many ways, been the case study for sexism in politics. She has faced intense scrutiny over what kind of a woman she is: her hair styles, her clothes, the sound of her voice, whether she's likable enough.
PHILADELPHIA ― In 1968, Hillary Clinton, known at the time as Hillary Rodham, was taking in the excitement of the Republican National Convention in Miami. The young Republican had jumped at the chance to volunteer for Nelson Rockefeller's last-minute effort to take the nomination from Richard Nixon and attend her first political convention.
"The Republican convention was my first inside look at big-time politics, and I found the week unreal and unsettling," Clinton wrote in her 2003 memoir.
The 20-year-old Rodham probably never anticipated that 48 years later, she'd be at another political convention ― this time standing on the stage at the Democratic National Convention, making history as the first woman to ever receive a major party's presidential nomination.
"Tonight, we've reached a milestone in our nation's march toward a more perfect union: the first time that a major party has nominated a woman for president," Clinton said Thursday night. "Standing here as my mother's daughter, and my daughter's mother, I'm so happy this day has come. I'm happy for grandmothers and little girls and everyone in between. I'm happy for boys and men, too – because when any barrier falls in America, it clears the way for everyone."
"After all, when there are no ceilings, the sky's the limit," she added. "So let's keep going, until every one of the 161 million women and girls across America has the opportunity she deserves to have. But even more important than the history we make tonight, is the history we will write together in the years ahead"
While more than 200 women have pursued the presidency since 1872 ― when Victoria Woodhull became the first woman to run for the highest office in the land ― no one has come as close as Clinton.
Clinton presented the 2016 election as a moment of reckoning for America, a time when "powerful forces are threatening to pull us apart."
"We have to decide whether we all will work together so we all can rise together," she said. "Our country's motto is e pluribus unum: out of many, we are one. Will we stay true to that motto? Well, we heard Donald Trump's answer last week at his convention. He wants to divide us ― from the rest of the world, and from each other. "
"Don't believe anyone who says, 'I alone can fix it,'" she added. "Yes, those were actually Donald Trump's words in Cleveland. And they should set off alarm bells for all of us."
Thursday night was an event that many women have been waiting for their whole lives, and there were plenty of tears ― both in the arena and from afar ― for the big, historic moment when Clinton came out to greet her daughter, Chelsea, onstage.
Suzanne Miller, 66, from Washington, D.C., said her 92-year-old mother in central Pennsylvania was a lifelong Republican. But this spring, she changed her party registration so that she could vote for Clinton.
"She's thrilled, at 92, to be able to vote for a woman," Miller said. "She never, ever thought she'd see this day. She is so excited and so thrilled that she changed her party after all those years."
"This is looking at the fruits of my labor for 30 years, and feeling very proud," said Ellen Malcolm, the founder of EMILY's List, which works to elect pro-choice Democratic women and has become one of the most powerful political action committees since its start in 1985.
It's been a long journey for Clinton. She first came to national attention as a student at Wellesley College in 1969, when her peers selected her to deliver the school's first-ever student commencement speech. The student body president spoke for her generation, saying that although they weren't yet in positions of power and leadership, they did have "that indispensable element of criticizing and constructive protest."
But Clinton's long record of public service has also made her open to criticism that she's part of the establishment ― something that's especially dogging her this election, with the rise of Republican presidential nominee Donald Trump. Her supporters consider this another damned-if-you-do, damned-if-you-don't moment: Would the country choose a woman to be president if she weren't this qualified? And how do you get qualified without being part of the system for so many years?
The fact that the first female president would be part of a political family is also not surprising, since that's how so many women broke barriers in politics.
Until the 1970s, one of the most common ways for a woman to enter politics was by following her husband. According to Pew Research Center, 90 women served in the House between 1916 and 1980; 34 of them were elected to fill their husband's seat or replaced him on the ballot after he died. This country has, traditionally, been more comfortable with female politicians when they know their husbands.
Jan Cebula, a nun from Iowa who gave her age as "over 65," sat in the very last row of the top section of the arena. The view wasn't the best, but she said she's overjoyed that "this is finally happening."
"I'm a little bit older. So it wasn't an aspiration to be president when we were growing up," Cebula said. Asked what she would have said if someone had suggested a female president when she was young, she stared blankly for a few seconds. "You know, to be real honest with you, they wouldn't have thought of it."
"Women have so many more opportunities today," she added. "What happens then is young women and girls see those role models and then it really does a lot for them."
Laura Bassett and Jennifer Bendery contributed reporting.
The atmosphere for women running for office has changed dramatically over the years, but they still face hurdles. Even during this election cycle, people have criticized Clinton by saying she needs to smile more and stop shouting ― despite the fact that her male challengers have never faced similar comments.
And it is those struggles ― and Clinton's endless ability to overcome them ― that have bound her supporters to her. Many of the women who have shown up to Clinton rallies and to the convention in Philadelphia say they relate to her, and that they want to see her finally come out on top.
Vicki Saporta, 63, from Washington, D.C., was the first female organizer for the Teamsters union. She said she constantly struggled to be accepted by others in the movement, and that she was put through test after test after test ― only to find her male colleagues resentful when she succeeded.
"I understand what it's like to pave the way for other women and how difficult it can be to be a first ― and how much extra you have to do in order to succeed," Saporta said.
"She was the first person in the public eye, in a traditional role, in a traditional state, who didn't say, 'I'm sorry, but I'm going to do this.' She just did it," said California delegate Andrea Villa, who was covered in pro-Hillary buttons and a T-shirt that read, "Well-Behaved Women Rarely Make History."
"I'm emotional and sentimental about this because I was the first woman mayor of Ville Platte, [Louisiana,] and here I am witnessing the first woman nominee who will eventually be president of the United States," said Jennifer Vidrine, 57.
The fact that the first female nominee is also eminently qualified also makes these women proud. They stress this over and over, so that Clinton doesn't get dismissed as just a "token" pick. After all, many of them have been accused of not being as qualified as their male counterparts ― and women still don't make as much as men do for the same work.
"I was hoping she would finally get her turn," said Roberta Goldman from Shrewsbury, Massachusetts, who said she's been a Clinton fan for a long time. "To me, she's smarter than any president I've experienced, to be honest. ... She's amazing! I don't know if we're going to get anybody else like that in a long time."
"What's so wonderful this time, for Hillary in particular ... is the most qualified. We are going to be in such capable hands. It's going to be so inspiring for the rest of us to be more engaged," said Cleveland resident Terri Hamilton Brown, 54, who said she never thought she'd see a black president, let alone a black president potentially succeeded by the nation's first female president.
07:48 Écrit par franceweb dans 21CenturyWebArchive, Advertising, Agregator, ArchiveWeb21, Articles, Blog, Collections, Communication & relations médias, Communiqués de presse, Dipl.Ing.Stefan V.Raducanu, Evénements, Femmes, FranceWeb, e-Globalnetwork, International, LMathieuwebcollection, Madeleine et Stefan Raducanu de FranceWeb, Monde, MyNewsCenterNavigator, OneGlobalLocal, PoissyWeb Social Network, Réseau, Sharing, SRU-Electronics, StefanWebCollection, USA, Women, Work, World | Lien permanent | Commentaires (0) |
Imprimer |
|
Facebook | | | | |