23/07/2016
Know why, Know who, Know where, Know what. The know how to succeed.
he 2nd ICIEM 2016, International Conference on Integrated Environmental Management for Sustainable Development seeks to create a tradition of a bi-annual gatherings of academia, industry and policy makers to build a series of environmental pollution monitoring systems and integrated management strategies. The conference will provide a forum for discussion amongst scientists, professionals and academia in different areas of the broader theme of environmental engineering and sciences. The wealth of information exchanged in this international meeting continues to be of great benefit to all involved in challenging environmental issues caused by the increase of pollutants loads discharged into natural environment ecosystems. Those challenges require the building of a regulatory framework and control strategies. This framework needs to be based on scientific evidence associated with exposure and health risk for pollution prevention and remediation strategies. The application of innovative remedial techniques and new scientific methods is key in order to reach sustainable development. It is therefore crucial to address the existing pollution problems, and protect public health as well as preserve the welfare of the environment.
The application of cost-effective technologies for waste treatment and controls is much needed in order to make possible the implement of appropriate regulatory measures that insure success of broader policy in pollution prevention.

Engineers and scientists working in this field need to be familiar with a wide range of issues including the physical processes of mixing and dispersion, and photochemical and biological developments. Hence, a continuous exchange of information between scientists in different parts of the world is essential.

In recent years, environmental protection has emerged as a requirement that goes beyond the state borders to reach a global dimension. This awareness has resulted in numerous treaties, directives and conventions and even changed the way we do business.

Protection of the environment, one of the pillars of sustainable development, is an absolute priority for the international community. In this context, the 2nd ICIEM conference aims to focus on relevant experiences, up-to-date scientific research and findings carried out all over the world to protect and preserve the environment. In addition, this meeting will allow the exchange of experiences to develop environmental protection strategies and pollution management tools.
Visitors
Pr, Dr, Student, industrial
environment, geology, chemistry, Biology
Exhibitors
Pr, Dr, Student, industrial
environment, geology, chemistry, Biology
EIN News
provides powerful, real-time media monitoring, news aggregation & syndication services. Read the latest news about this topic. See:
14:20 Écrit par franceweb dans Actualités, Advertising
WEB PAGES, NEWSPAPERS, ARTS, ARTICLES, NEWSGROUPS, BLOGS, BRIEFING, BUSINESS, CULTURE, ECONOMIY, ENTREPRENEURS, EDUCATION, FINANCE, IDEAS, HEALTH, MARKETS, LEADERSHIP, LIFE, MULTIMEDIA, OPINION, SPORTS, TECHNOLOGY, TECH, WORLD, POLITICS, PUBLIC DATABASES, MAILING LISTS AND MORE...
ABC Australian Business | abcNEWS | AFP |AllYouCanRead |Argumenti i Fakti | Asahi | Asia Times | Asia Singapore | atNewYork | B2B Manufacturers Directory China&Taiwan | BBC News | BizEurope | Bloomberg Global News | Boston Globe | Business Daily | Canadian Business Online | CBS News| Channel News | Chicago Tribune | China News | China News French | Christian Science Monitor| CNET | CNN Daily News |CRAYON| Daily Earth | Daily News | DMOZ | E-Commerce Times | ENN Enviromental News Network | Enterprise News for IT | Finance | Financial Times | Forbes | Foreign Policy | Fox News | Gazeta | German News | Google | Google News France | Gulf Daily News | Importdatabase | InfoWorld | InformationWeek | Interfax | Investors Business Daily | IPL Newspapers | International Import Portal | Israel News | Itogi | Izvestia | LA Daily News | LCI | Literaturnaia Gazeta | Los Angeles Times | Major Metros | Moreover | MSN bc | My Yahoo! | NASA | NewsIsFree | NewsVoyager | New York Post | New York Times | Newsday | Newsweek | Nikkei Net Interactive | NPR | Other Newspapers | Pravda | Red Herring | Reuters | SKY NEWS | Slate | Terra Daily | The Mirror | The Wall Street Journal | The Washington Times | Time | TIMES ONLINE | UN News Centre | UPI | USA Today | U.S.News | Vedomosti | Wired | World France24 | World News | World News Business | WN Countries | World News Anyththing | World News Sites | World News Today |World News Travel |Yahoo France | Yahoo World | ZATAZ Magazine | ZDNet | TED | CRI | Bing News |SOHO Resources | AmEx Small Biz Exchange | BPlans.com | Business Forms | EntreWorld | Government Resources | Small Business State Profiles | Yahoo Small Business | IRS Small Business | Tax Checklist | MSN Investor | Morningstar | Motley Fool | The Street | Silicon Investor | Raging Bull | Superstar Investor | Whisper Numbers | Financial Data Finder | FinWeb | IOMA Business Directory | Research Links | Area Code Finder | Switchboard | Int'l Dialing Codes | 800 Directory | Yellow Pages | Zip Code Finder (Business) | Nielsen Ratings | Code of Federal Regulations | Tax Code | U.S. Code | WallStreet & Technology |Top US News Sites |World News Sites | Magazines |
The Need for Speedy Information Online
Your Way to Better Search Results
01 net,
6Ter,
20minutes,
60millions,
23,
2424actu,
Abondance,
Actualités France
,
Actuorange
,
Actualtés Yahoo
,
ADIT
,
ADIT
,
ADmagazine,
AFP,
AgoraVox,
Alergique
,
AlloCiné
,
AlterInfo,
Amazon
,
AMF
,
Association de Maires de France
,
Android Software
,
Antenne Réunion
,
Anuaire de Radios Françaises
,
APCE,
Assemblée Nationale,
Avantages
,
Aujourd'hui en France,
Auto-Journal
,
Automobile
,
autoMOTO,
AFP - Agence France Presse
,
Art&Decoration
,
BIBA,
BFMTV
,
Blogparfait
,
Bien Public, Le
,
BastideLife
,
Berry, Le
,
Bonheur,
Bourse,
CahiersCinema
,
Challenges
,
LE CHASSEUR FRANCAIS
,
Chateau de Versailles,
Canard Enchainé
,
Centre Pompidou
,
Charente libre
,
Cherie25
,
Clicanoo
,
Closer
,
Clubic
,
Cnet France
,
CNRS
,
Connaissance des Arts,
Connexion,
Cosmopolitan
,
Courrier International
,
D8
,
17,
Direct Soir
,
Cuisine et Vins de France,
Décisions Achats
,
Echos, Les
,
Elle
,
Entreprise L,
Equipe, L'
,
ESPNF1
,
Euractiv
,
EuroFora
,
Eurosport
,
Europe 1
,
Expansion, L'
,
Expatica
,
Express, L'
,
Femme Actuelle,
Figaro, Le
,
France 2 Infos
,
France 3 Infos
,
France 4,
France 5,
France Diplomatie
,
France Info,
France Inter
,
France Football
,
France24,
France Musique
,
FranceSoir
,
FrenchNewsOnline,
French Property News
,
Geo World Online GWO
,
Gizmodo,
GNT
,
Grands Reportages
,
GRAZIA
,
Gulli,
Guadeloupe
,
Guyanne,
Herald de Paris
,
HD1
,
HTC Dev
,
Humanité, L'
,
Inist
,
INPI
,
Ile-de-France
,
International Herald Tribune
,
Internaute L'
,
Investir
,
iTele
,
ITespresso,
Jardin pratique
,
JDC Le
,
Jeune Afrique
,
Jeune Afrique L'intelligent
,
Jeuxvideo
,
Journal des Enfants, Le
,
Journal de la Haute-Marne, Le
,
Journal du Dimanche, Le
,
Journal du Geek, Le,
Journal du Net
,
Journaux Officiels
,
La Croix
,
La Depeche
,
La pêche et les poissons,
LARuche,
La Voix du Nord
,
LCI - La Chaîne Info
,
LesAffaires
,
L'Equipe21
,
L'Etudiant,
L'Histoire
,
Le Huffington Post
,
Le journal de la maison
,
Le Journal de Mickey
,
Le monde des ados
,
Le Monde du Camping Car
,
LFP,
Le Spectacle du Monde
,
LFP
,
Le Turf,
Libération
,
Libre Journal, Le
,
Lire
,
L'Indépendant,
L'OBS
,
Logiciel,
Lost in France
,
Louvre
,
M6,
Mains et Merveilles deco
Marie-Claire
,
Marie-Claire Maiso
n,
Marie France
,
Maison & Travaux
,
Magazine Littéraire
,
Marianne2
,
Martinique
,
Maxi
,
Mayotte
,
Mediapart
,
Metro France
,
Metropole Paris,
Modes & Travaux
,
Mon Jardin et ma Maison
,
Monde Diplomatique, Le
,
Monde, Le
,
Monde Informatique, Le
,
MOTO journal
,
MyTF1news
,
NRJ12,
NT1,
News in Normandy
,
News Press
,
Notre temps
,
Nous Deux,
Nouvel Observateur
,
Nouvelle Caledonie
,
OM PLanet
,
Ouest France
,
Outre mer 1ere
,
Xinhua, Agence
,
PARENTS
,
Paris Match
,
Paris Voice
,
Parisien, Le
,
Paris Women
,
Particulier, Le
,
Pays, Le
,
Petit Journal, Le
,
Phoceen, Le
,
Pirouette
,
Plain Vie
,
Planète Cheval au nature
,
Point de Vue
,
PoissyWeb
,
Premiere
Presse
Point, Le
,
Polinésie
,
Politis
,
Potins
,
Psychologies
,
Public Sénat
,
Questions de femmes
,
Radio France Internationale
,
Recherche, La
,
Réponse a tout
,
Residences Decoration
,
Réunion
,
Reuters France
,
Riviera Magazine
,
Riviera Times
,
Revenu, Le
,
RMC
,
RMC SPORT
,
RTL,
Rolling Stone
,
RUNNERS
,
Rue89
,
Saint Barth
,
Saint Martin,
Saint-Pierre et Miquelon
,
Science et Vie
,
Site Officiel de la France
,
Site Officiel de Tourisme en France
,
So Foot
,
Stuff
,
SudOuest
,
System D
,
Télégramme, Le
,
télé7joursjeux
,
Télé Loisirs
,
TF1 Infos
,
Télécable Sat
,
Télérama,
Télé star,
Témoignage Chrétien
,
Top Santé
,
The Local
,
TMC
,
Tribune, La
,
Trombinoscope, Le,
TV5Monde
,
UNESCO Courrier
,
Valeurs Actuelles
,
Vanity Fair
,
VeilleMag
,
Vélo Magazine
,
VivaDeco
,
Vivre Bio
,
Vocable
,
VOGUE
,
Voiles et Voilliers
,
Votre Beauté
,
Voyages SNCF
,
Voltaire Network
,
ZD Net,
W9
,
Winnie et ses amis
,
Wallis et Futuna
Stefan NEWS Press Reader Personalized News Agregator

Liens utiles, Useful Links

Financial Times, Lexis Nexis, La FNPS, Ultimate Monet Makeover, Giga Presse, Profound, ABYZ News Links, France24, Europresse, DowJones, CCI Lyon, IndexPresse, Argus Presse, A2Presse, Cofacerating, Dafsaliens, Skyminder, Pouey, Europages, Societe.com, The Wall Street Journal, D&B, BMJ Ratings, Infobel, Bureau Van Dijk, Annuel Repports, Journal Officiel, ASG Asso, NVCA, 1stHeadlines, Big News Network, EIN News, CCS, BNF, France Daily, Expatica, French Culture Now, Index Mundi, Inside France, Moreover, Nabou, News Now, One World, Topix, Toqueville Connection, Economist, Business Insider,
Pour Vous et avec Vous!
Stefan V.Raducanu, President FRANCE WEB
Contact: Tel : +33(0)1 39 65 50 34 +33(0)6 21 97 47 99
14:20 Écrit par franceweb dans 21CenturyWebArchive, Advertising, Agregator, AlertInfo, Archive21stCentury, ArchiveWeb21, Art de vivre, Art et Culture, Articles, Association, Communication & relations médias, Conférences, Dipl.Ing.Stefan V.Raducanu, Le consommateur, Monde, MyNewsCenterNavigator, OneGlobalLocal, Opportunités, Organisation, Organisme, Partenaires, PoissyWebCitoyen, PoissyWorldWide, Pub, Recherche, Réseau, Science, SRU-Electronics, Tunisie, Un être culturel, Web,Web,Web, Work, World | Lien permanent | Commentaires (0) |
Imprimer |
|
Facebook | | | | |
16/07/2016
Le public aura donc 10 semaines pour venir admirer les œuvres des artistes sélectionnés, une soixantaine au total, exposant leurs peintures et sculptures au Centre Culturel Marius Hudry. Si le thème retenu pour 2016 est celui du patrimoine, millénaire de la cathédrale de Moûtiers oblige, les artistes auront bien sur eu la liberté de laisser parler leur imagination pour réaliser des oeuvres exprimant "le patrimoine" hors du contexte moûtiérain.

La nouvelle salle du centre culturel, baptisée « Chambre de l'Archevêque », accueillera également en juillet une exposition dans le cadre du Géofestival Beaufortain 2016. Un festival pédagogique croisant la science et les savoirs locaux afin de mieux comprendre notre territoire. Les visiteurs pourront par exemple admirer des œuvres réalisées avec de la terre prélevée dans différents lieux de la région, dont Feissons sur Salins.


Informations
31e Salon Peinture et Sculpture
À Moûtiers, Centre Culturel Marius Hudry
Du 18 juin au 27 août 2016
Infos : +33 (0)4 79 24 04 23
11:51 Écrit par franceweb dans 21CenturyWebArchive, Agenda 21, Agregator, AlertInfo, ArchiveWeb21, Art et Culture, Articles, Arts, Arts & loisirs créatifs, Blog, Collections, Collectivité, Communication & relations médias, Dipl.Ing.Stefan V.Raducanu, Diverse, Evénements, Expositions, France, FranceWeb sur Facebook, FranceWeb, e-Globalnetwork, INVITATION, Le consommateur, LMathieuwebcollection, Loisirs, Madeleine et Stefan Raducanu de FranceWeb, Marketing, Monde, MyNewsCenterNavigator, OneGlobalLocal, Opportunités, Partenaires, Poissy Ville Connectée, PoissyWebCitoyen, PoissyWorldWide, Pub, Recherche, Réseau, Sharing, Social Media Intelligence, SRU-Electronics, Un être culturel, Vacances, Voyage | Lien permanent | Commentaires (0) |
Imprimer |
|
Facebook | | | | |
10/07/2016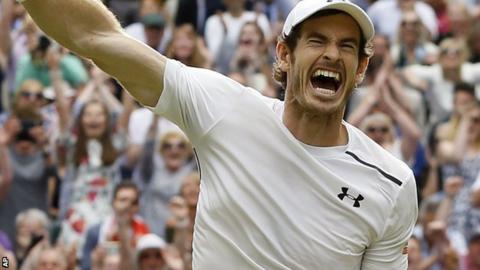 Britain's Andy Murray became Wimbledon champion for the second time with a superb performance against Canadian sixth seed Milos Raonic in the final.
The Scot, 29, dismantled the Raonic serve in a 6-4 7-6 (7-3) 7-6 (7-2) victory to repeat his triumph of 2013 and claim a third Grand Slam title.
Murray is the first British man to win multiple Wimbledon singles titles since Fred Perry in 1935.
"I'm proud to have my hands on the trophy again," said Murray.
18:27 Écrit par franceweb dans 21CenturyWebArchive, Agregator, AlertInfo, Archive21stCentury, ArchiveWeb21, Articles, Blog, Dipl.Ing.Stefan V.Raducanu, Diverse, Evénements, Exposants, International, Le consommateur, LMathieuwebcollection, Madeleine et Stefan Raducanu de FranceWeb, Monde, Other News, Réseau, Sport, SRU-Electronics, Un être culturel, Web,Web,Web, World | Lien permanent | Commentaires (0) |
Imprimer |
|
Facebook | | | | |